When sister Laura saw the pictures of the October 2006 trip, she told me to sign her up. We signed up for the Waterpocket Fold trip the first week of April, 2007. Throughout the trip, she kept a diary, so I am using it as the narrative. Some of the photos in the narrative were taken by other people on the trip, and I name the photographer for each of those photos. Where no credit is given, the photo is mine. I also have links to my videos at the end of the narrative.
Waterpocket Fold is in Capital Reef National Park. The website for Escalante Canyon Outfitters is www.ecohike.com.
You can see all of Ed Belove's 268 photos at this this site or look at a few that I selected here. Walter Alton's 40 are here. Bill Naftels's 29 are here. Ester and Judith's 374(!!!!!) are at this site. More of my photos are here.
We left South Haven at 7:00 am Saturday, March 31, 2007. Rich and Mark dropped us off at Midway airport, then they had plans to sight-see and spend the night in Chicago. Steve and I worked our way thru baggage check, security, and finally, to our gate. Not a long wait.
Our flight was uneventful – 20 minutes faster than expected. No trouble with picking up our rental car at Enterprise. We are driving a PT Cruiser. It doesn't have much guts going up long inclines – but it only cost $20 to fill up! We took I-15 south out of Salt Lake. What a huge valley! Mountains on both sides all the way to Scipio – our exit off the highway. Sometimes we saw no houses, no cows, or any other traffic! Once south of Provo, very little population. A few scattered towns – a few farms – mostly beef cows.
We were looking for a Mexican restaurant in Salinas, which I think we found, but Steve didn't recognize – so kept driving all the way to Bicknell and ate at the "Sunglo". Good food – plenty and inexpensive. Next stop, Boulder, but first we had to drive up and over Boulder Mt, 9000+ ft. Beautiful.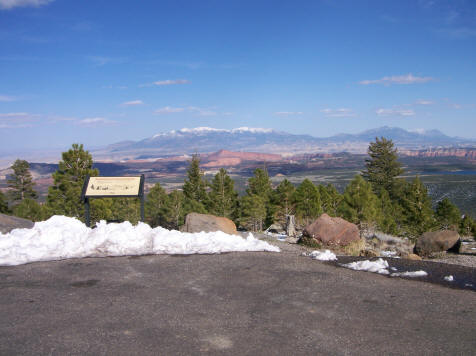 Once in Boulder, we found our 3 unit hotel – "Circle Cliffs" – found the envelope with our name on it – key inside.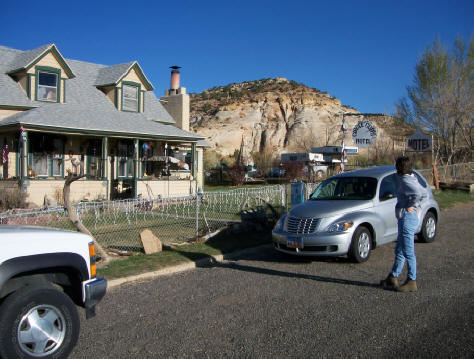 Unloaded, then took the short tour of Boulder. One gas station/quickstop, 3 restaurants, a gift shop, and our outfitter's place. Next, we took a long drive down "Burr Trail" into the area we will hike. Amazing! Huge cliffs of red rock – gullies, gulches, dry creek beds, fallen rocks. A snapshot would not do it justice.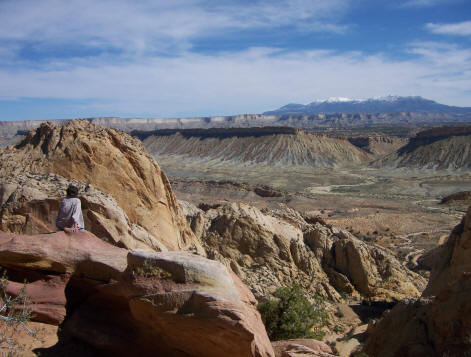 On our way back we stopped at the Burr Trail Grill for a draft beer, chips and salsa. You have to eat with your drink in this county.
Back to our room – we repacked backpacks, sorted our stuff and went to bed early (or late, Michigan time).
The First Day
4/1/07
We met up with the group at the outfitters. Repacked our gear into duffels they provide – packed up our lunches, took "vitamins" shots, loaded up the van, and set out down Burr Trail – about a 2 hour or more drive to the trailhead. Grant and Doug were there ahead of us, with 2 trucks and 6 horses. They had already packed in the kitchen and stoves, the tents, and set up the latrine. We waited by the trucks until they returned, then followed their trail to the camp.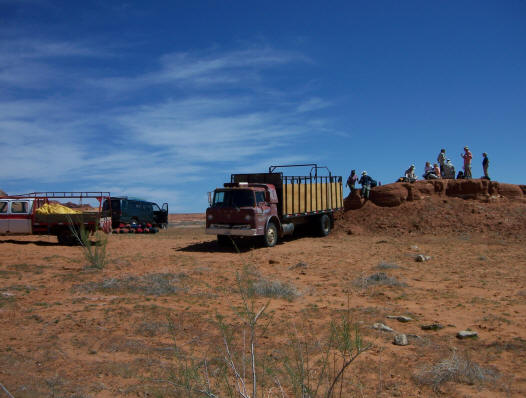 Six horses were hauled in this truck
A few tiny stream crossings, bulrushes, brambles, loose sand, slick rock. Sheer cliffs of red rock. We hiked past Lake Powell (in the distance) seeing boats on the lake – an oasis of civilization in the middle of nothing.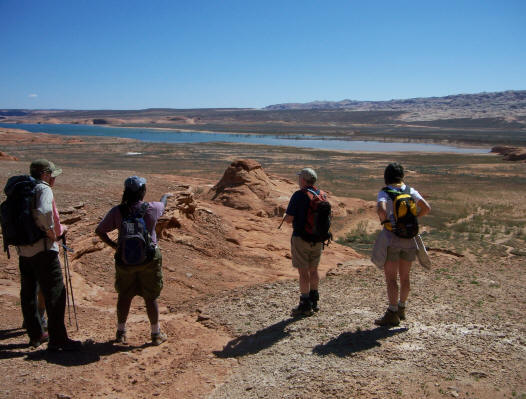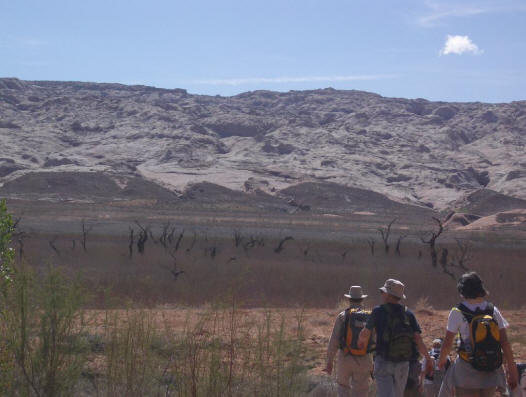 That pile of gray rock in the distance is the "Waterpocket Fold" (Ed Belove's photo)
I think we hiked about 3½ to 4 hours to reach camp. We set about setting up tents – then relaxed in the chairs. Everyone got into the wine, except me. I had to wait for Grant and Doug to return with our duffels and the food, for my Southern Comfort.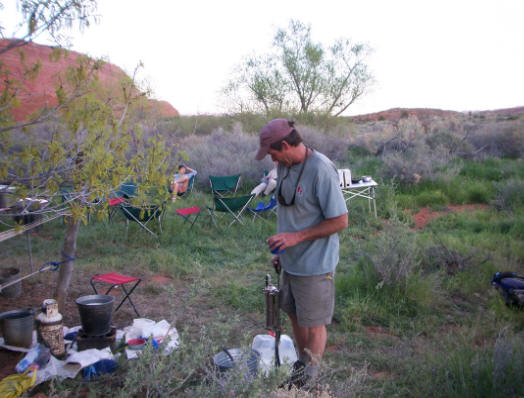 Doug, filtering water. We hiked around the end of that red rock wall at the
upper left on the way in; on the way out, we'll have to climb it.
Serena spent much time fixing a spaghetti supper, which by the time we ate, it was with our headlamps. We aren't allowed to have campfires as such, although Steve said they had a couple last year. I was happy to go to bed, dirty and all. Some of the group went down to the stream and washed up – but I passed. *Big concern* I came up with a blister on my right heel.
The campers:
A very well educated, well traveled group. Just listening to the conversation is an education. Many discussions on past trips both here and many other national parks. Several of them have traveled in Europe, New Zeeland.
Both Judith and Ester have had knee surgery. Ester, when recovering from her last, decided to take up hiking, and found ECO. This trip is her seventh.
Bill and John – brothers from southern California. Bill is a urologist, John, an ER doctor. Their friends Alan and Harry are both anesthesiologists – Bill, Harry & Alan all work in the same hospital. On their last ski trip, they met Walter, a trial lawyer from New York.
The sisters, Judith and Ester, come from Germany – then New York, were in real estate, then bought a horse farm in upstate New York. They raise jumpers.
Ed is from Boston, an entrepreneur – private financier [he invests his own money, which he made in the computer industry back before the dot com bust].
Walter was once an actor and had a part in "10". Says he is running down the beach in the beginning of the movie. I'll have to rent it again! That was the only one he mentioned. Every now and then he'd sing out "Everybody knows" (from the latest Dixie Chicks CD, "Stepping Out"). I was surprised they all knew their music. Walter is a trial lawyer and usually sues doctors in malpractice cases. Which makes it funny that he was traveling with 4 doctors. Walter is single – late 50's [actually, he's 65!].
John, brother of Bill, is the ER doctor. Says he chose that because he likes the excitement of new patients every day but gets bored with all the follow up. His wife's name is Cheryl – and their passion is horses. He's been thrown many times – has broken his leg and hip – but can't give it up because in his words "I'm addicted". They have no children – making it all the more possible to enjoy their horses and travels.
The guides:
Grant – the owner of Escalante Canyon Outfitters. Grant is from this area – he used to mine uranium. He has "blasted" out their house out of stone. It's like a cave – never colder than 45º, hotter than 75º. One day, while exploring a narrow canyon, he ran into Doug, they've become friends and have worked together since.
Serena had been on the road for years (selling Jesus) when she stopped in Boulder to visit a friend, drove down Grant & Sue's driveway thinking it was a road – got stuck and had to ask Grant to pull her out – the rest, of course, is history.
Day 2
4/2/07
Long night of tossing and turning. My sleeping pad didn't do much to protect me from the ground's hardness. When I gave up and woke up – I took a very thorough sponge bath, using wipes. I was able to do my entire hygiene routine sitting in my sleeping bag.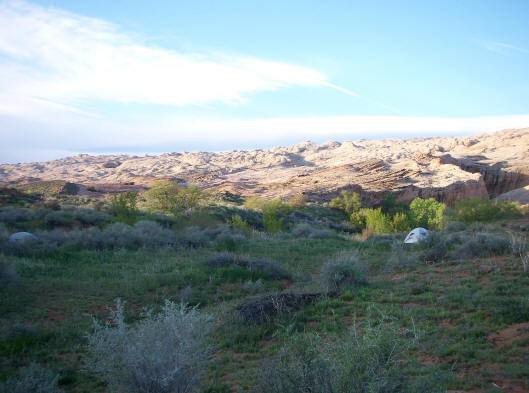 Steve's tent, morning of Day 2.
Serena was busy laying out lunch fixings and making a breakfast of scrambled eggs, sausage, beans & veggies for breakfast burritos.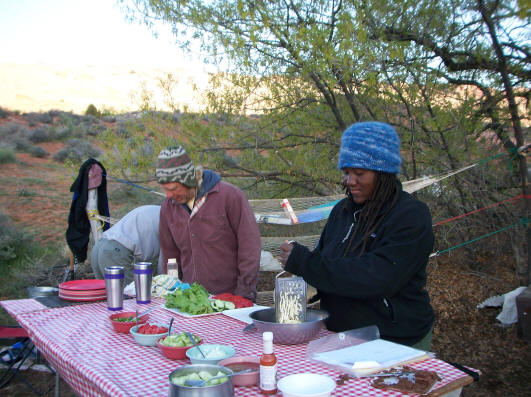 Grant and Serena
We filled our water bags, packed our lunches and made ready. Our hike, to the novice, had no rhyme or reason. We hiked canyons, folds, crested "slick knobs", found potholes, crevices, etc. We lunched, then Judith and Serena headed back to camp. We nixed a couple of paths – a bit too tricky for most of us – and Grant found better ways. The sights, the views are really indescribable, so I won't try very hard. It is just amazing, the enormity of it all.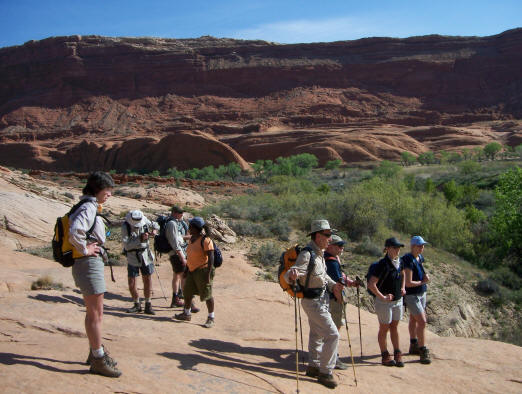 You look ahead to the next ridge, climb it – and there is another ridge in the distance even higher. As we say – you have to turn back sometime. Late afternoon, Doug took Walter, Harry, John and Allan back a supposedly faster, easier way, while Ester, Ed, Bill, Steve and I followed Grant in to several more canyons and up and over many slick knobs. Much picture taking of flowers and scenic overlooks.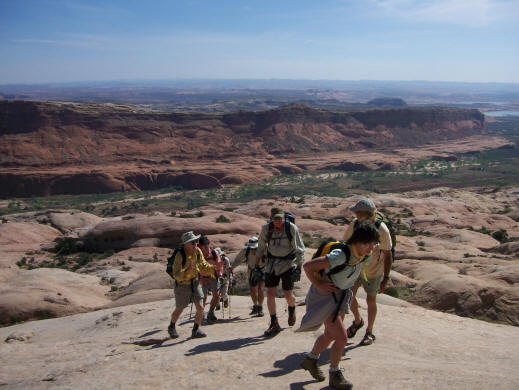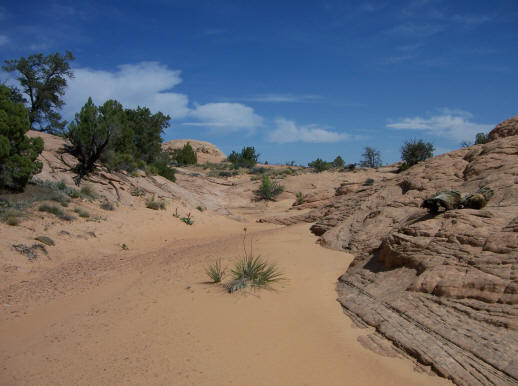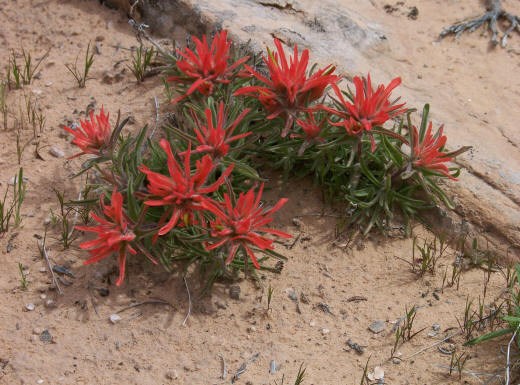 Devil's Paintbrush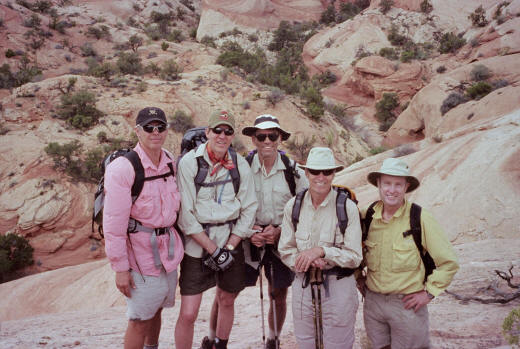 Harry, Alan, Walter, John and Bill: 4 doctors and a malpractice lawyer (Walter Alton's photo)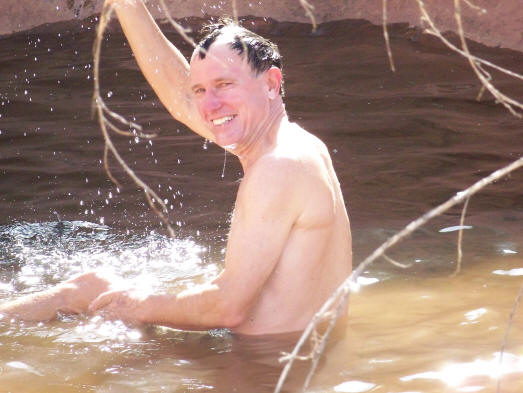 Bill takes a dip in a "waterpocket"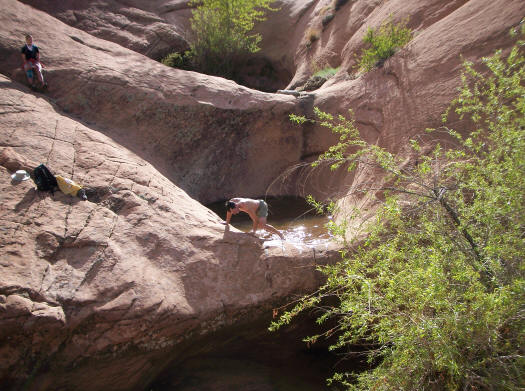 The others had just come back from the river and their baths when we arrived. By bath wasn't much fun. The access to the river was steep – the bottom muddy. I squatted – wet my hair and myself, soaped up – imagined I saw a water snake, hurriedly splashed clean and got out! It did feel good to get the stink off.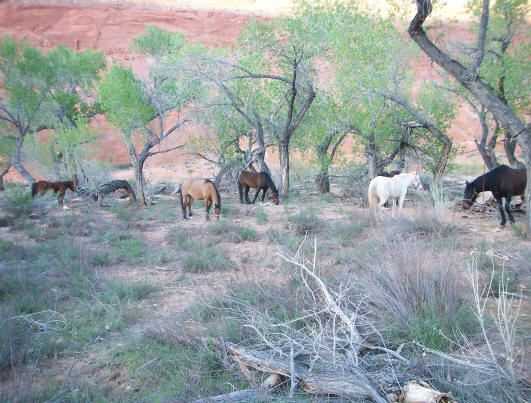 Supper was fried trout, coleslaw and brownies. I didn't spend much time sitting with the group after supper. Just wasn't interested. I readied for bed – popped a couple Tylenol PMs and hoped for the best.
Day 3
4/3/07
Not much better last night – although I heard less from the others. Still tossed and turned.
Breakfast of orange French toast and sausage – good hot coffee.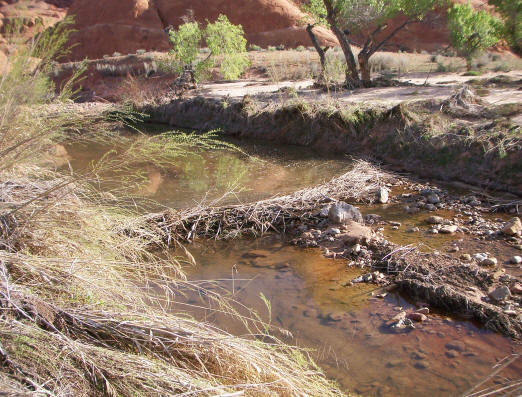 Beaver dam in Hall's Creek below Camp #1
We broke camp – as the guys and horses moved the supplies and gear further down the valley. We will follow the "river". We donned our water shoes and pretty much walked up the stream that runs thru the valley [Hall's Creek].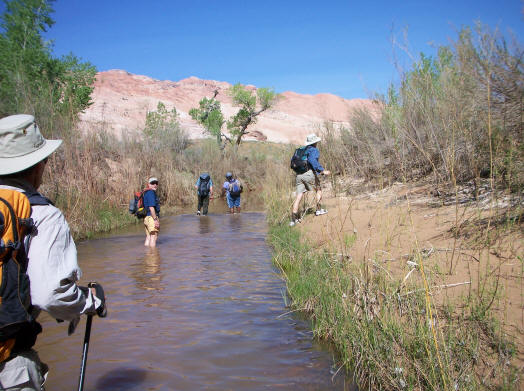 We found several swimming holes – one of which some of the group took a dip in.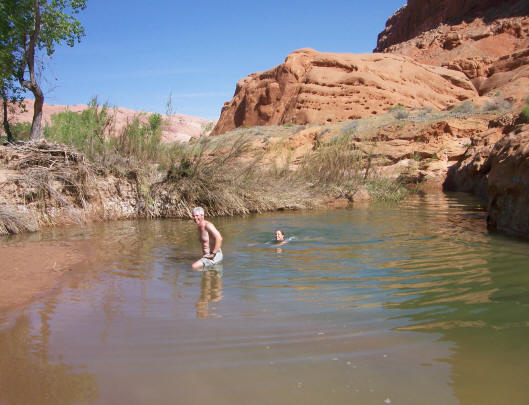 The rest of us moved along. We missed the place we were to look for petroglyphs on the canyon walls – and a "tool making area". Serena led us up a trail to another area (which was the wrong spot) and Ester, Judith and I refused to give up until we covered the whole area. From there, we dropped into Millers Canyon & creek and wandered the rest of the afternoon.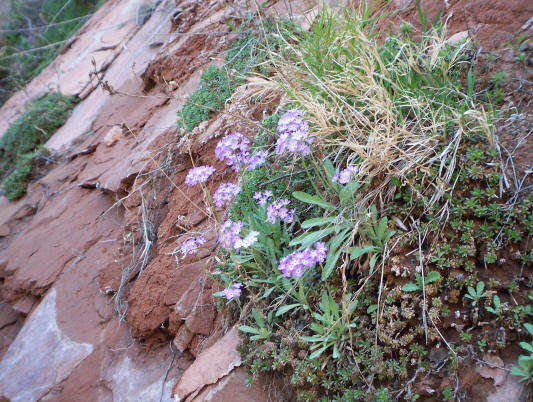 After our lunch stop, everyone did their own thing. The sisters and Serena went the shortest distance, choosing a sunny spot to sit and knit socks and visit. I went a bit further, found a flat rock and sunbathed for an hour and a half. As the rest of the group returned from their trek in, I followed the last guys out. We left the canyon – followed the horse trail all the way to camp.
This new camp is on series of swells – making it difficult to find a level spot to set your tent. The best is we have better access to the creek – so I was able to take a lovely bath. I set 3 rocks on the edge to sit on, splashed water on myself – soaped up then used my water bottle to rinse. Very nice, very refreshing.
Dinner, by headlamp, was spaghetti with a most delicious chicken and sauce – with fresh baked cookies – chocolate chip. Star gazing – then off to bed.
Day 4
4/4/07
Probably my worst night so far. My tent was on too much of an incline, so I spent the night rolling down hill. Morning was welcome. After my morning routine – I searched for a better spot and ended up moving my tent about 6 feet away – then turned it longways – so I'll at least have my head uphill.
Eggs and bacon, biscuits - lunch packing and the usual rambling discussions of what to wear, what to pack – blah, blah, blah!
Camp #2 in the morning
Ended up – water shoes! [For water shoes, most of us wore Converse All Stars hightops.] We set out for Halls Canyon – following the ledge all the way.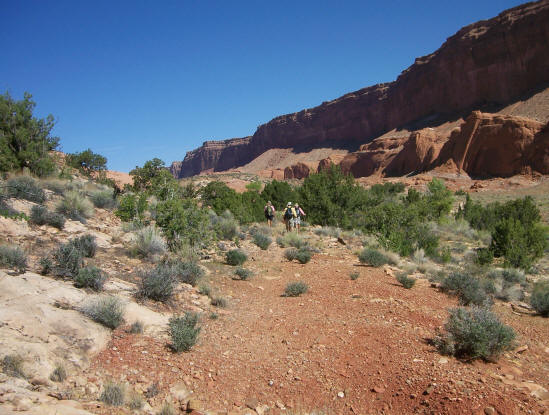 We dropped into the canyon and made our way. Much of the time we waded the streams – the canyon walls looming high overhead. I don't use the word awesome but… The colors, the "vortex's", the debris from past floods – the "slide rocks", the pools, the alcoves, the narrows.
Awesome! (Bill Naftel's photo)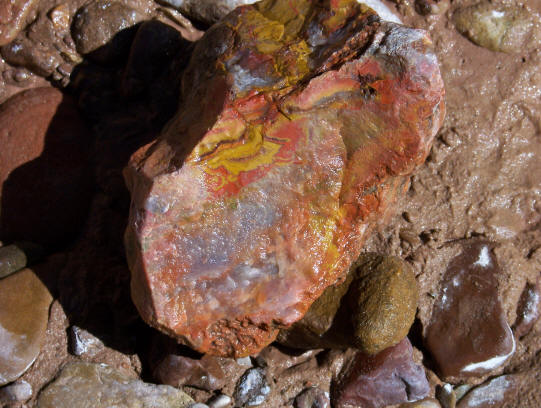 A colorful rock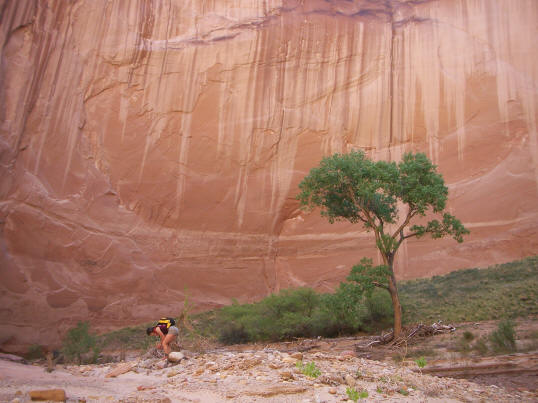 Laura looks for rocks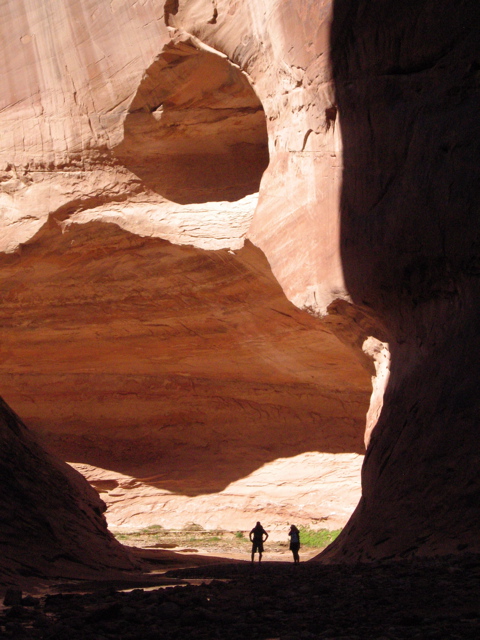 (Bill Naftel's photo)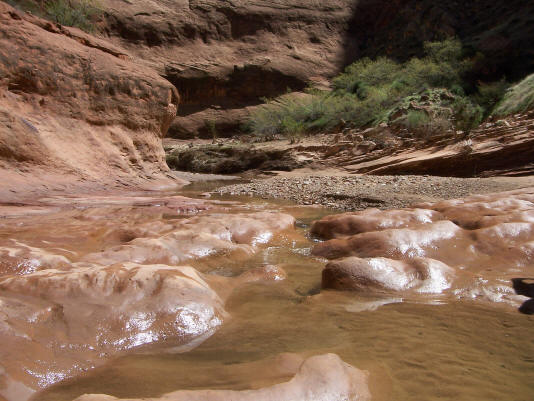 At one point we had to wade chest high – holding our packs above our heads. Scary – but not to be missed!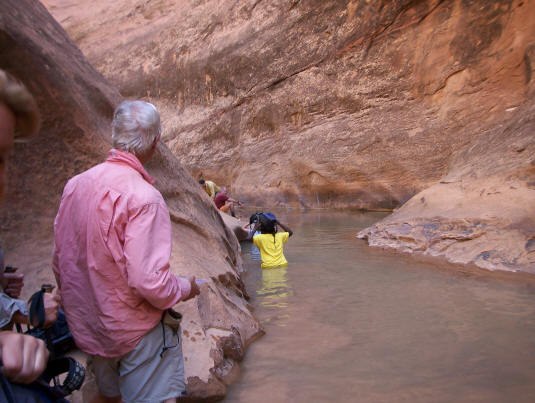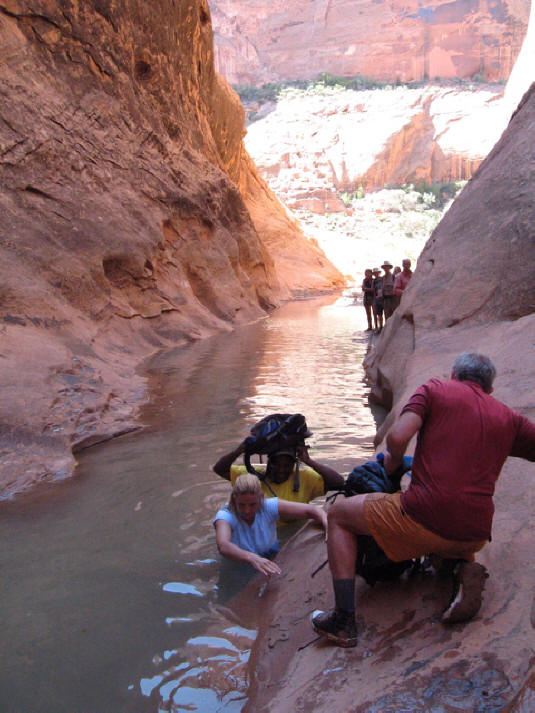 (Bill Naftel's photo)
Some of the bends in the canyon had the look of a movie sound stage. To diminish the whole experience, it was "way cool".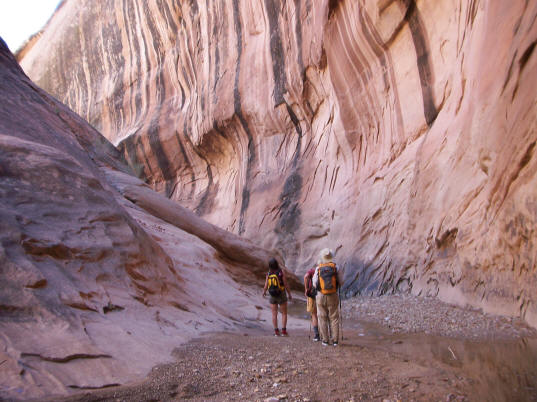 I ended up hiking out of the canyon with Steve, Ed and John. A very long day. My legs and butt are as tired as any day so far.
Another lovely bath by the river. The most relaxing yet exhilarating part of the day!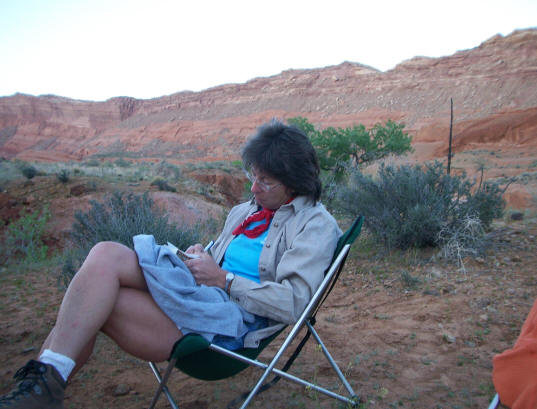 Laura works on her diary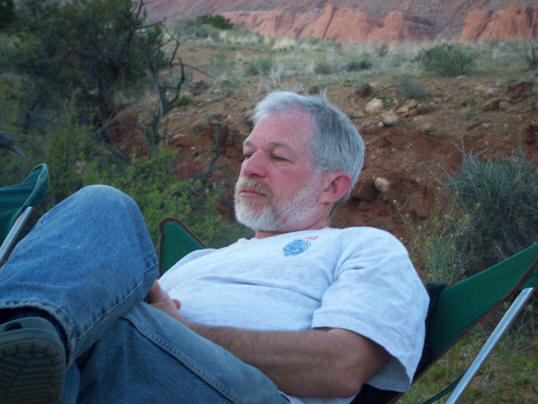 Ed the computer industry pioneer
John the emergency room doctor and Harry the anesthesiologist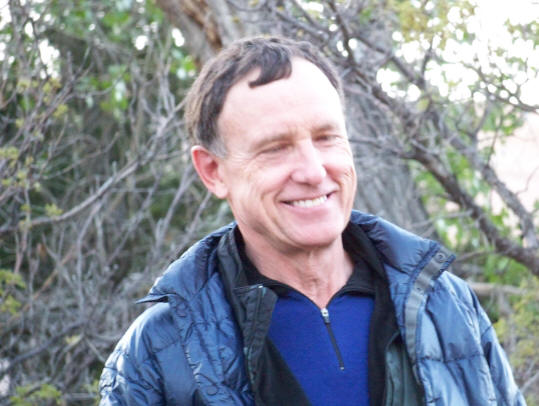 Bill the urologist
Ester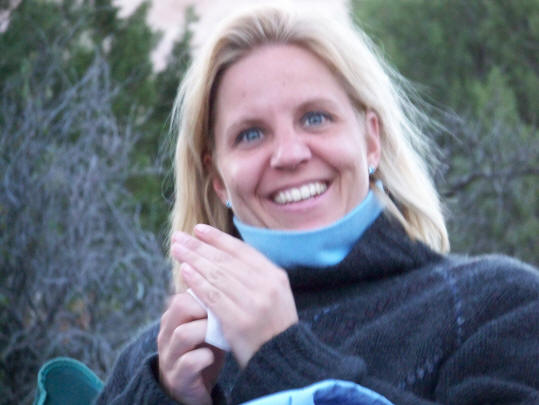 Judith the veterinarian
Serena had salsa, guacamole and chips ready for us. Followed by fajitas & tortillas and brownies. My supply of Southern Comfort is getting low, so I had to try some of the white Franzia. Not bad.
Day 5
4/5/07
Much better night's sleep. Still wakeful – but not as much. Breakfast was eggs and sausage – lunches packed – and on our way. Judith opted to stay in camp – pump [filter] water, curry the horses and gather firewood. The rest of us went straight up the slick rock – at least 1000 feet right off. That's the way to get your heart pounding.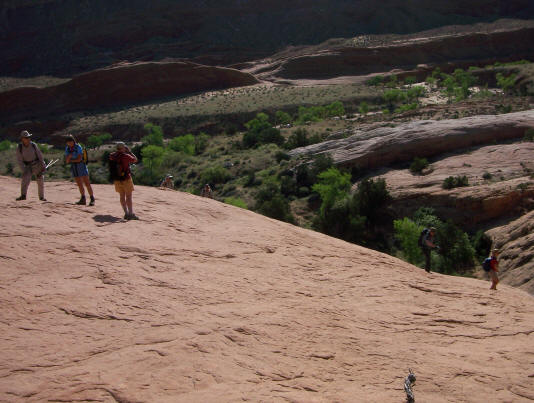 We spent the day exploring, looking over the edge of Halls Canyon – what fantastic views.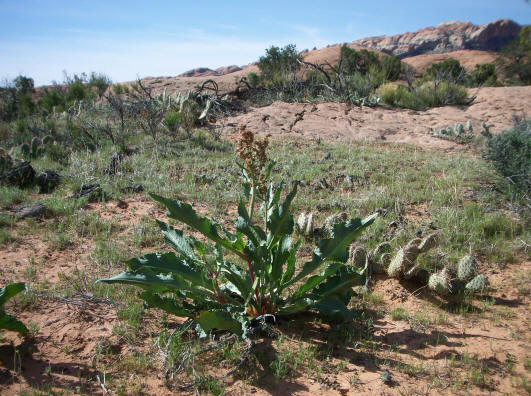 Wild rhubarb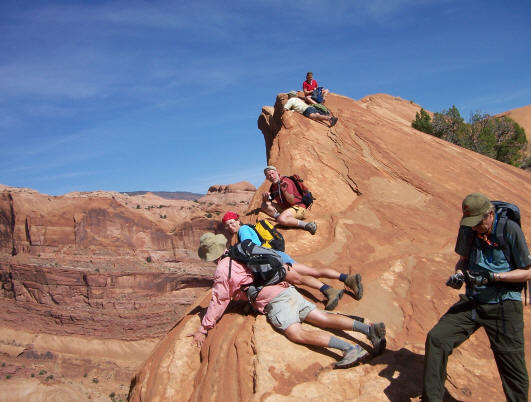 Peering into the abyss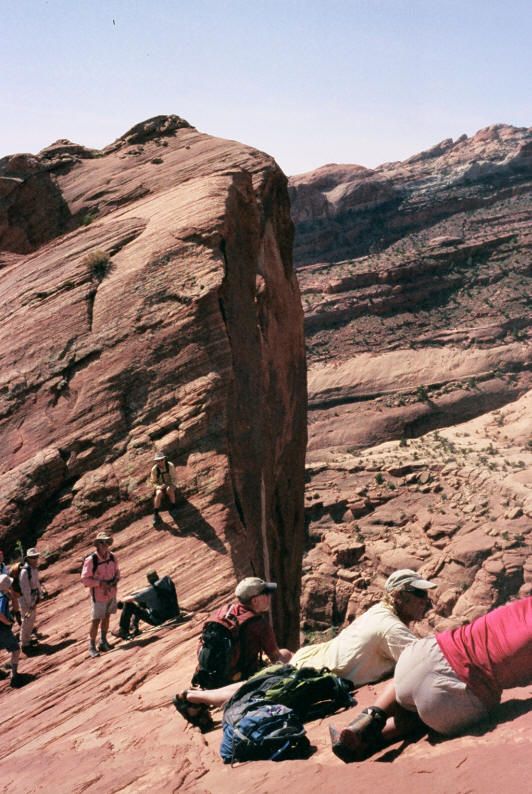 (Walter Alton's photo)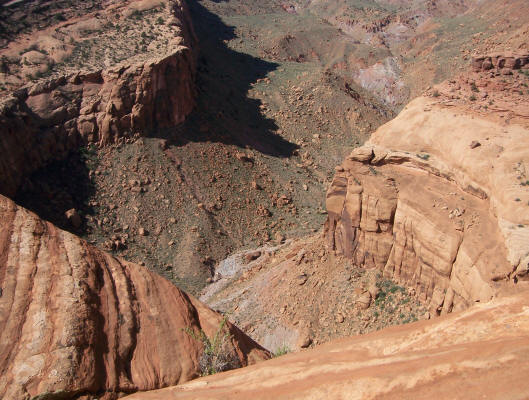 The abyss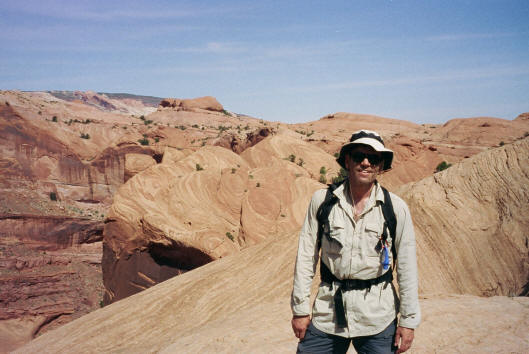 Walter, the personal injury lawyer (Walter Alton's photo)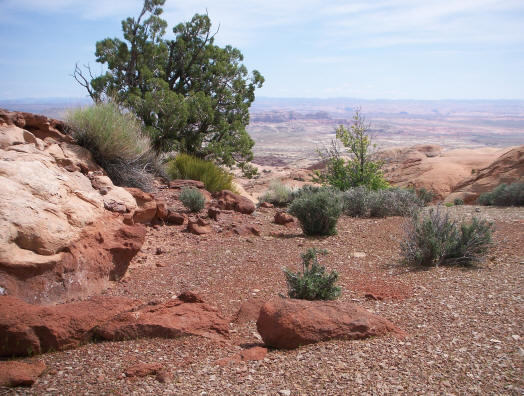 A small, very high plateau
We made some dicey ascents and descents – lunched, discovered a "natural bridge".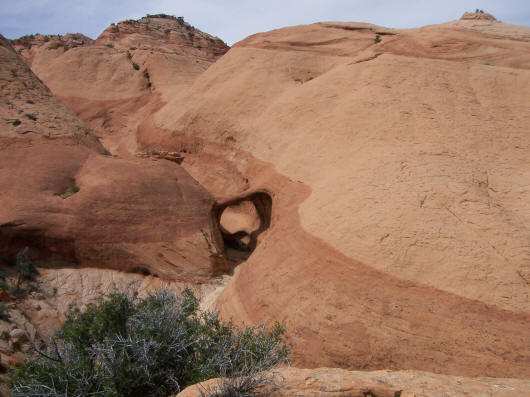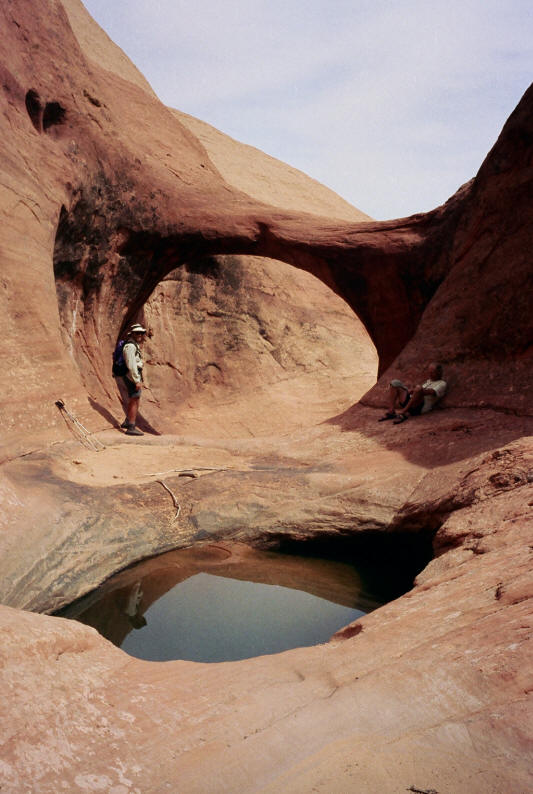 (Walter Alton's photo)
The desire to explore that further led Doug to head back to camp with Steve and John.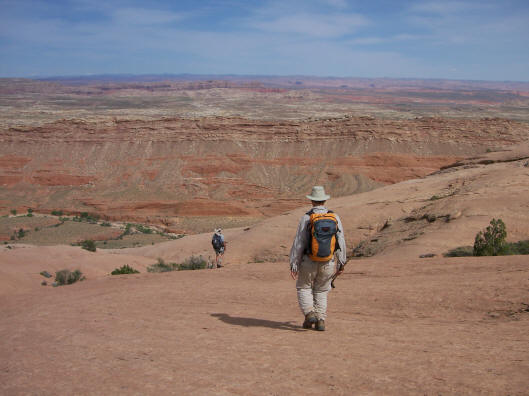 It was too early for the rest of us – so push on we did. Shortly after, Grant, Bill & Ester wanted to try an ascent that was more than the rest of us wanted to do – so Walter, Harry, Alan, Ed and I dropped packs and enjoyed the moment we were in. We felt we had nothing left to prove – and were pretty much in sensory overload. We laid out than began much laughing – mentioning brushes with famous people – Kurt Goudy's daughter provided us with the most laughs. Then, we got into 20 Questions – which carried us all the way to the campfire tonight. Grant and crew returned to collect us – and we began to make our way down to camp – 1000 feet down.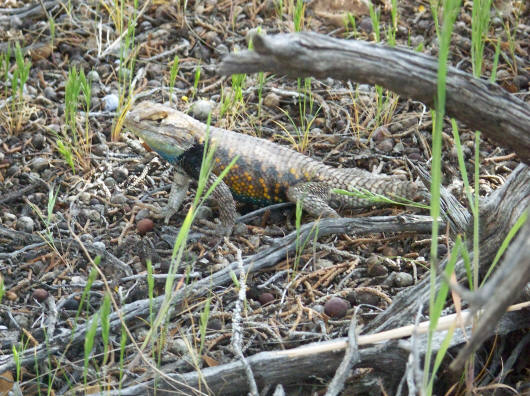 Collared lizard (seen near the latrine)
Another lovely bath at the river – another delicious dinner of chicken & noodles & rice with coleslaw.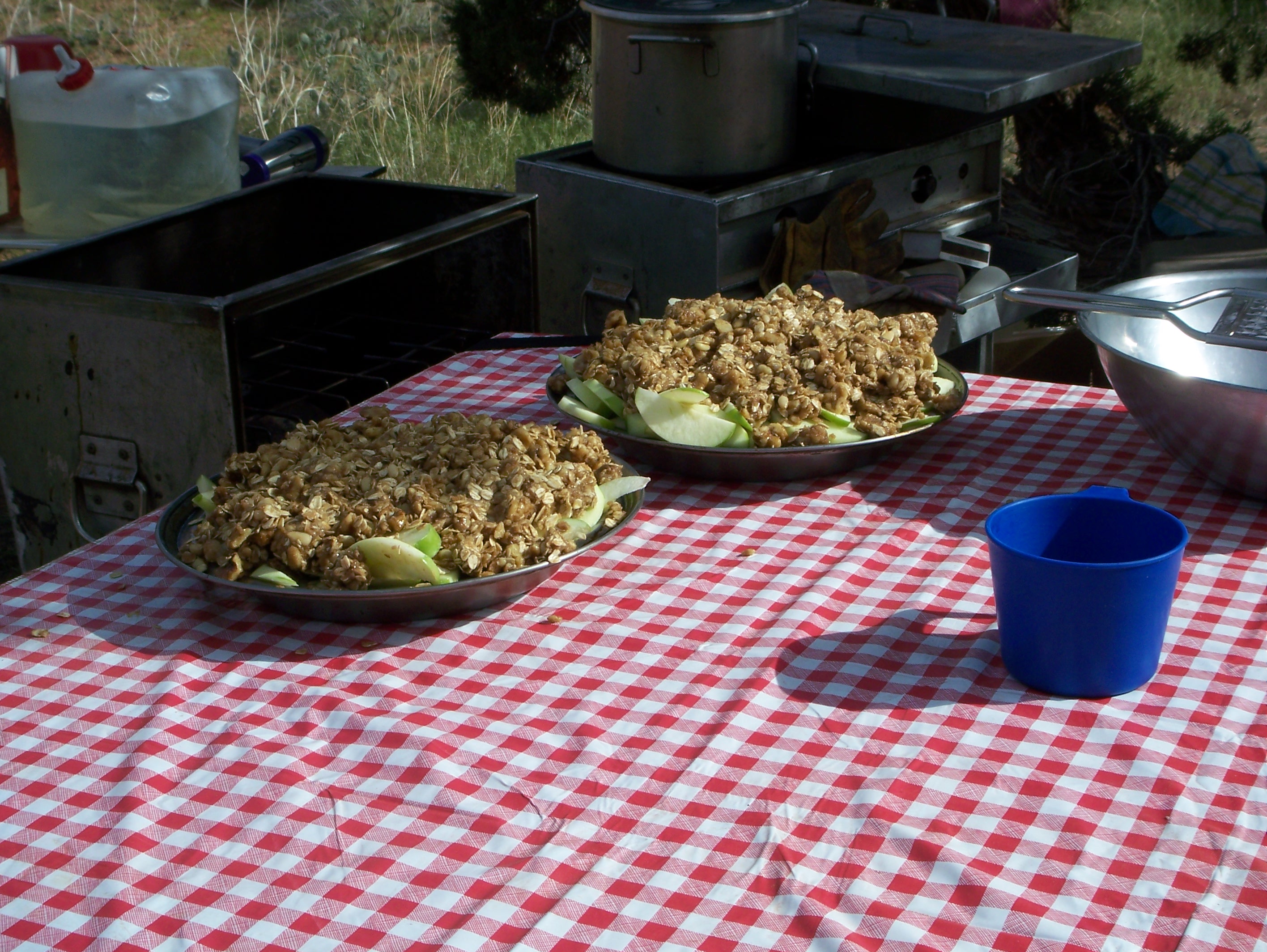 And apple crisp for dessert
Our first and only campfire kept us sitting around the circle tonight, longer than usual.
Day 6
4/6/07
We were all packed up and around early, packing duffels, taking down tents, loading the horses, preparing for our exit of the canyon. Serena fed us green chili laced scrambled eggs with toasted bagels. We even had some tuna fish salad to make sandwiches for lunch.
The horses left at 9:20.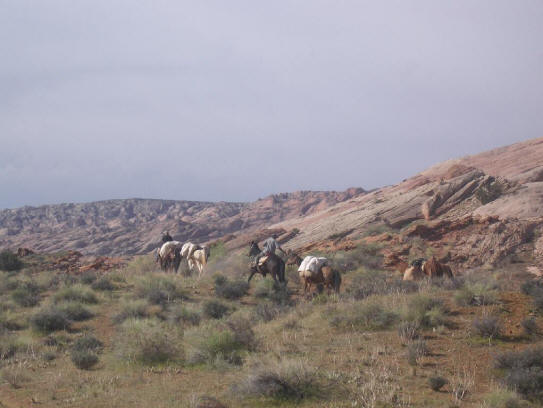 Ed Belove's Photo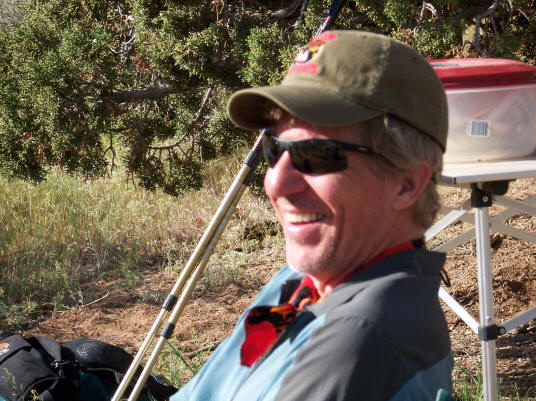 Alan - another anesthesiologist
We posed for a couple of group pictures at the camp – then started out on what was to be our biggest challenge so far. We quickly crossed the creek and started working our way up the 1000 ft. cliff that we've been facing all week.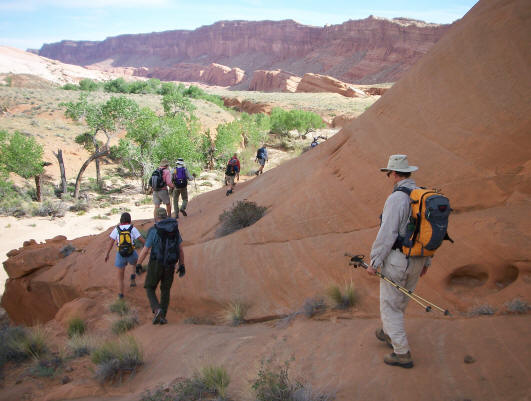 A jumble of loose rack and sand, crumbling footholds and lost trails.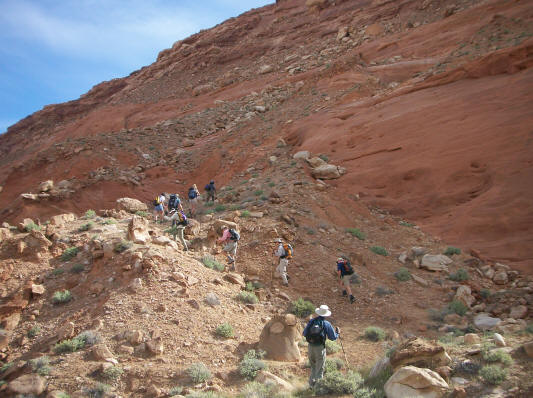 According to Grant, the trail had washed out during the last big rain storm last month. We switched back and forth, gaining altitude – Serena trying to find some hint of an old trail. There were moments of terror for me. Just knowing I had no choice but to go on kept me from losing my nerve completely.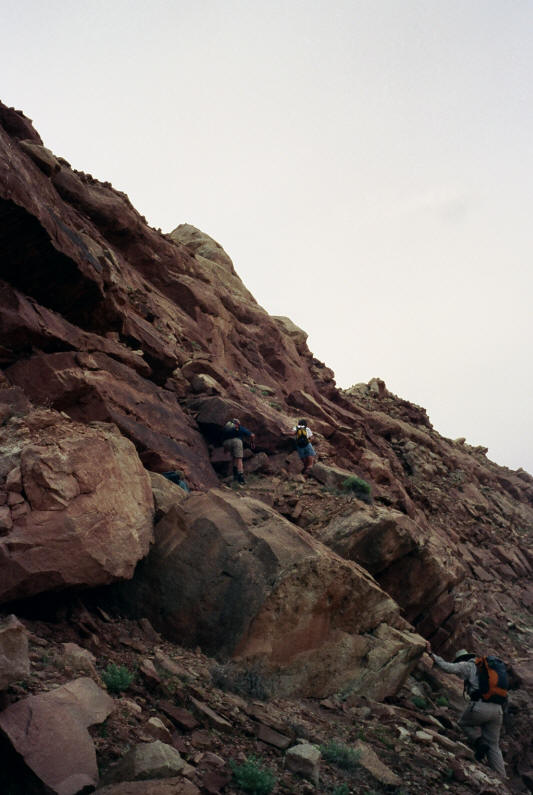 (Walter Alton's photo)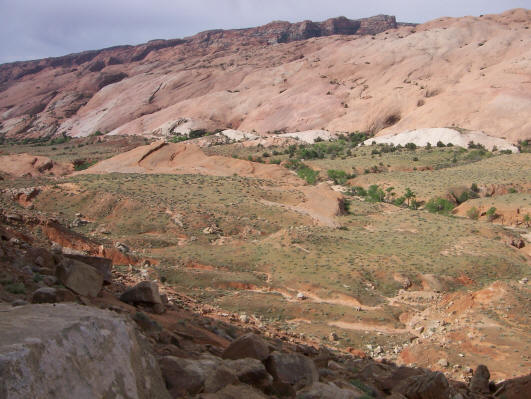 Looking back
I was hanging on the trail – waiting for word from Serena – thankful to be between Harry & John – when she yelled, "I found the trail!" What relief! When the others were making a cut thru some rocks, both Ester and Walter smacked their heads on a jutting rock – Walter leaving a pretty good gash, with blood staining his hat. I was never so glad to get to the top.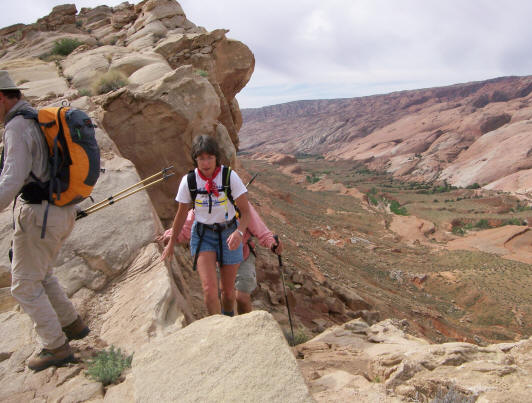 I had to get away from the others and have a mini breakdown! I finally pulled myself together and joined the group for a lengthy photo shoot. That climb will certainly leave a lasting memory.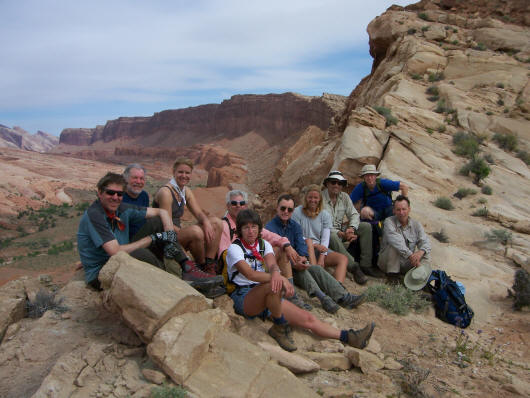 I felt so much relief at getting the climb over that the uncertainty and sheer drudgery of the hike out seemed easy.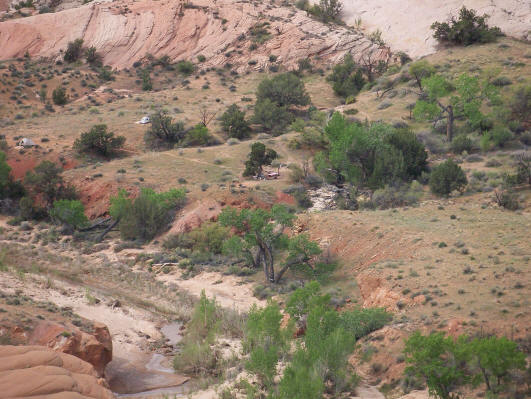 A (zoomed) look back at camp from the top of the bluff. Only Grant and
Dougs' tents remain. They will return this evening, stay the night, then
haul the rest of the equipment out the next day.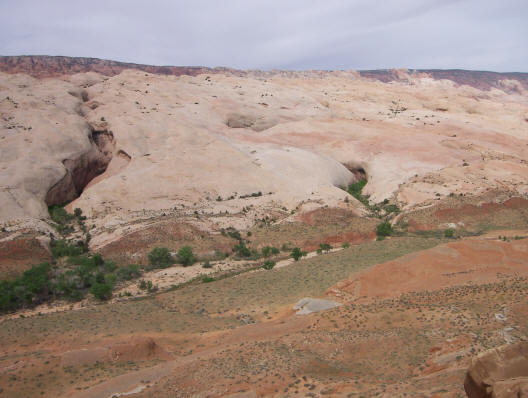 From the top of the bluff: Miller's Canyon at the left, Hall's Canyon at the right.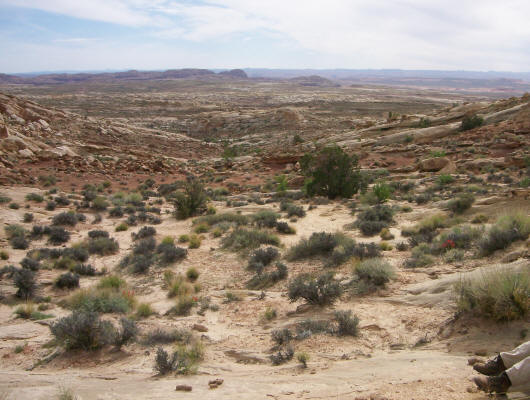 The way out, from the top of the bluff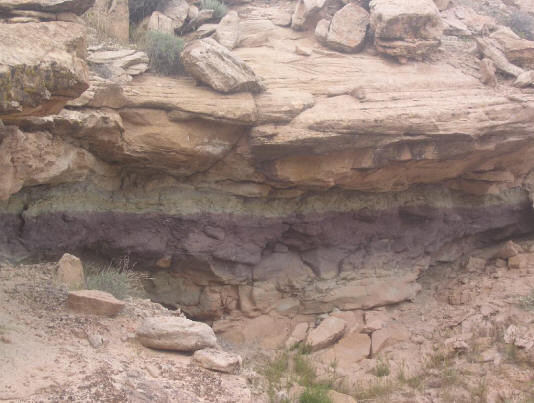 Under an overhang on the hike out, green and purple rock (Ed Belove's photo)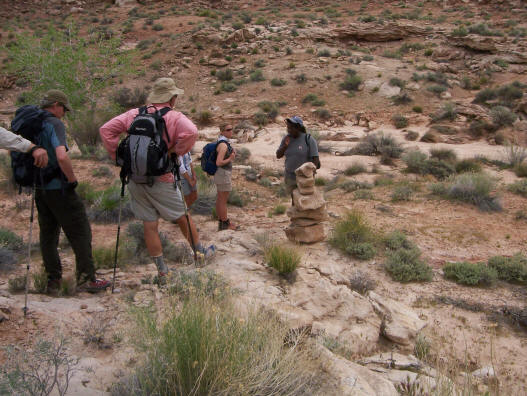 Cairns to mark the trail were few and far between.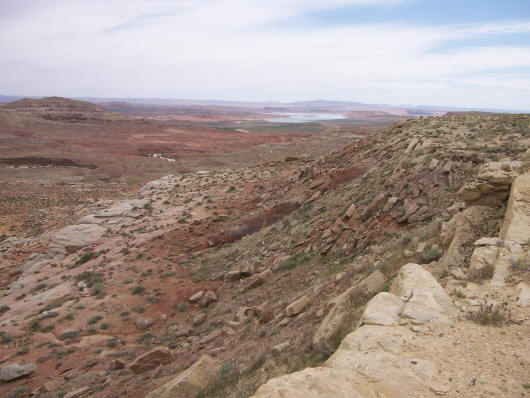 Lake Powell again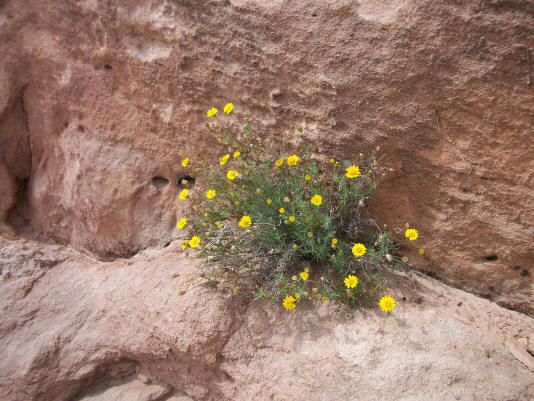 Serena struggled again – trying to find a trail. We got off in the wrong direction a couple of times, but eventually found the van. It looked good to me.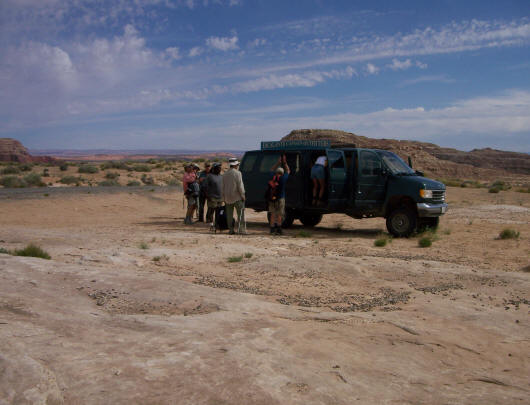 We loaded up – drove back in to where we began the trip [after we started the hike to camp the first day, Grant and Doug moved the van to where we would be walking out the last day] – found the trucks and all our duffels piled on a tarp. We grabbed our belongings and started back – thru Capitol Reef/ Escalante Staircase & Dixie National Forest – all the way back to Boulder. We unpacked, said our goodbyes, and beat it back to the Circle Cliffs motel.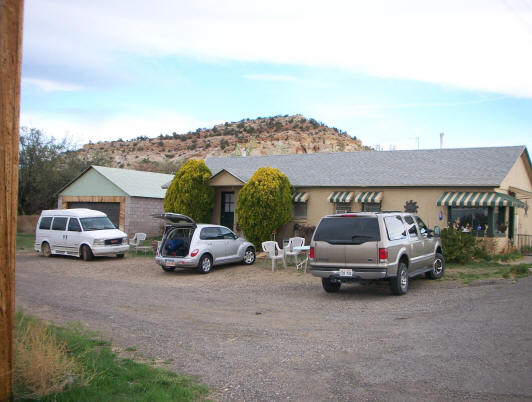 I bought a quart of milk, which I downed at the ECO office, and a six-pack of Bud – which we got into during our first hot showers in 6 days. Nice, but hard to beat my Halls Creek spa!
We met up with Ed, Judith and Ester at the Burr Trail Grill and had supper together – hashing over the entire trip. No complaints. We all had a great time.
Day 7
4/7/07
We were in no hurry, as we had plenty of time to get to Salt Lake. Slept in, packed up and drove over Boulder Mt. to Bicknell, back to the "Sunglow" for breakfast. We enjoyed the drive back – kind of like walking back out of a canyon – a whole different view. Steve is not one to skip a meal, so stopped again just into SLC at a cool Mexican fast food joint – Rio Café – making tortillas on a big griddle as you placed your order.
No problem getting to the airport – or checking in. It's 70 and sunny here, cold and snowy at home, so says Rich.
Videos: