Click a picture to see larger view. And press your f11 key for full screen view.
This trip was just me and long-time friend Alan Jansen. We flew from Lansing to Las Vegas, arriving at about 6:00, 9:00 Michigan time. We had reserved a full-size car, like a Taurus, but the clerk at the Hertz desk asked if we wanted to upgrade to a Lincoln LS for another $7 a day - and she could give us a 10% discount on that. We took it. It is a nice car – not any bigger than a Taurus, but it has an 8-cylinder engine and lots of amenities – more than we learned how to use. The neatest thing was that when you pull the key out of the ignition, the steering wheel retracts and the seat moves back, making it easier for you to get in and out. And when you stick the key in again, they move back to where you had set them. What's more, it remembers the seat and steering wheel positions for 2 different drivers, which came in handy.
We went looking for a motel. Two people we asked had recommended a place called Terribles. We drove all over and couldn't find it. We should have reserved a motel ahead of time. We finally settled on the St. Tropez, about a half mile off Las Vegas Boulevard. $70 included a good continental breakfast. The next day when we were looking for a grocery store, we did see Terribles. Rooms are $39 and there is a McDonalds inside.
We did not set foot in a casino, but we did drive up and down the strip. There sure are a lot of casinos there, and they are big.
At about 9:00 Tuesday morning, we left Las Vegas and headed northeast out of town on US 15. About a half hour out, we took a 2-lane through a pretty desert to Valley of Fire State Park. It has a lot of smooth, red sandstone hills and pretty rock formations. We took a short hike, but didn't spend much time there although all that smooth rock looked like fun to walk around on.
From there, we headed for Zion National Park. We got to Springdale, a little town just outside the park, in late afternoon and rented a room at the Pioneer Motel for about $40. We had dinner at the Bit and Spur, a classy Mexican restaurant/bar, then went to an IMAX movie that was supposed to be about the park. But it was a fictional depiction of the history of the park and the area, about the Indians and the Spanish and early explorers. Kind of hokey. It also had some modern rock climbers, a breed of barely sane people.
The next day, we parked our car at the Visitor Center just inside the park and took the shuttle up the canyon as far as it would go. The canyon walls are very high, and they narrow as you follow the Merced river up the canyon. We walked farther up from the last shuttle stop until the canyon walls narrowed to about 100 feet and the river filled it. More hardy hikers wade the river on up the canyon. We didn't. We did take another hike up to some little falls and the Emerald Pools, and took a few pictures. There were several other hiking trails, some that take you up to some high and scarily-narrow ridges, but we didn't. There were rock climbers in the park – fly specs way up on sheer canyon walls. The shuttle buses are free and pass each point about every 15 minutes. There also is a little restaurant in the park.
We pooped out in mid-afternoon and drove out the east entrance to the park, a narrow road which passes through a one-way-at-a-time tunnel, built when cars were smaller. On top, there was the first of a phenomenon I saw in several places on the trip: smooth, reddish rock hills, decorated here and there with small trees and bushes. Beautiful. We later learned that it is sandstone, which is petrified sand dune.
Since rain was forecast for the next day or so, we reluctantly decided to skip Bryce Canyon National Park. It is at a higher elevation than Zion, so we were afraid it would be cold and wet. It had already started to sprinkle. We headed southeast, stopping in the rain just long enough to take a picture at Coral Pink Sand Dunes, which are just that. The pink sand was speckled with blue-green sagebrush (I guess that is what it was). Very pretty, even under gloomy skies. They were formed by the wind blowing between a gap between some mountains.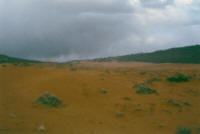 We missed the turn for the short route back to the main highway, so continued on a road that turned to dirt/sand, finally ending up at highway 59, much farther south and west than we wanted to be. But the drive was scenic – desert with buttes in the distance.
We headed back east to Fredonia (Utah), then north to Kanob and got a room at the National 9 Motel for $35 total. Had dinner at a Chinese restaurant called the Wok Inn. $8 for almond chicken, $3 for beer. While we were there, a whole busload of prosperous-looking Chinese tourists came in. Probably Taiwanese.
We were in bed early and up before daybreak and had breakfast at a little café where we were the only customers. Then east on 89. About half way between Kanab and Page, we crossed the Pariah River and stopped to do some hiking. There was a house just off the highway, but we saw no one. There was a little self-serve registration station nearby that stated the park rules and had a box where we were to deposit an envelope with our name and address and $5 per person, $5 per dog. Then we drove our Lincoln LS down a hilly dirt road about ½ mile to a parking lot next to a huge, smooth white rock. There were a few cars, but no people. The facilities were a couple of modern outhouses and a few picnic tables and grills. The river was about a quarter of a mile away and there was no canyon to speak of. We put on our hiking boots, grabbed our backpacks, and headed downstream. The river cut deeper into the canyon as we went, and the river, which was about 30 feet across, 10" deep, and grey with silt, wound from side to side of the canyon. We soon reached a point where we either had to climb the canyon wall or wade across the river. I took off my boots so I wouldn't get them wet, but another quarter mile down, the river trapped us against the other side of the canyon. I began to realize that this was going to happen a lot, so this time I left my boots on. We walked down the canyon about 2 miles, and waded across the river 11 times.
The color of the canyon walls varied, but there was a lot of that red sandstone, pocked from erosion (we were later told). This was the best part of the trip for me, because it was a little more adventurous and physical than anything else we did. It was hard to turn back, because I always wanted to see what was around the next bend. We did see some other hikers. Some were going to make the entire 36 mile trip to the Colorado River. From what I've read and pictures I've seen, down river the canyon becomes very deep and strange and beautiful.
We got back, cleaned the mud out of our boots, and headed east toward Page, near the Glen Canyon Dam and Lake Powell. It started to get cooler and very windy. We stopped in Page and got some groceries and went to a shop for coffee and frozen yogurt. It started to sprinkle, so we decided to spend the rest of the day driving. We headed for Mesa Verde in the southwest corner of Colorado. Much of the drive was through Navajo reservation. We saw small herds of sheep tended by 1 or 2 dogs. That's an occupation I never considered: shepherd. We stopped at a little Navajo restaurant for dinner. "Fry bread" was on the menu. We didn't try it there, but we kept seeing it and finally tried some at another restaurant on the reservation. It's like the elephant ears you get at fairs, without the sugar and not so greasy.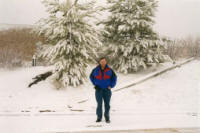 That night we stayed at the Tomahawk Motel ($43) in Cortez, CO, near Mesa Verde. It was owned by a Polish couple who'd come there from Chicago many years ago. It was cold and rainy and snow was forecast. We planned to kill time in the area the next day, then see Mesa Verde the day after that, when the sun was supposed to come out. Mesa Verde is a huge complex of old Indian dwellings. So after breakfast we headed for nearby Dolores, to visit the Anasazi Museum. Anasazi is the name they've given to the very old Indian civilization in the Southwest. We ran into snow and came back and visited a big Indian crafts store, where we watched women paint and carve pots. We each bought one for our wives, then headed toward Dolores again. We ran into snow again, about 2", but this time we pressed on and found the museum. It houses millions of artifacts rescued from the Dolores river valley before a dam was built. It had a replica of Indian house and a lot of information on archeological digs.
When the weather continued to look bad and we heard that only part of Mesa Verde was open to the public this time of year, we decided to skip it. We headed southwest and almost immediately began to get some sunshine. Along the way, we visited one of about 7 scattered Indian ruins collectively called Hovenweep. It was still partly cloudy and cool, but we were able to hike around the site, which were the remains of several stone/brick buildings around the rim of a small canyon.
From there, we continued southeast on 163 and got to Monument Valley in mid afternoon. This is an area where the plateau eroded away and left huge, flat-topped columns of rock. It is controlled by the Navajo. We paid $3 to drive our car around a rough, 17-mile dirt road that looped through these things. We could have paid to take a site-seeing bus around, and they also offered hiking and horseback riding tours, but no hiking was allowed without a guide. We drove and took a lot of pictures. We had that late afternoon sun and interesting clouds, all a photographer could want. Alan had recently got interested in photography, and had been learning a lot at his part time job at a photo shop. He spent a lot of time experimenting with F-stops, using his tripod. I ran around trying to find a good shot – where the sun was shining on most of the rock and there was something of interest in the foreground, like a clump of grass or an old, dead tree. Or a donkey.
We didn't get out of there until about 7:00. Then on to Kayenta, which although very small, had 3 national chain motels, the least expensive of which was the Hampton Inn at $65. It was brand new and beautiful, decorated in a southwestern motif. There was also a brand new Burger King next door, which seemed built to last forever. I think the Navajos have money to spend. I know they own a big power plant near Page. This stay turned out to be our most expensive, because when we left early the next morning – after a continental breakfast at the motel – we forgot to check out, and they charged 2 nights to my credit card. When I got the bill, I called and they said no problem, they'd take it off and send confirmation. But they didn't do either.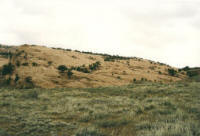 Saturday morning we headed for Flagstaff. About 15 miles out of town we saw the Anasazi Inn motel and restaurant. Probably cheaper than where we stayed last night, and in a beautiful spot – smooth sandstone and a small canyon. Just northeast of Flagstaff, we went to Sunset Crater, the site of a volcano eruption from who knows how many years ago. There had been a lava flow, and there were big chunks of black rock. There was hiking trail, but we didn't do it. The neighboring hillsides were smooth and black, but with vegetation on top. It was surrounded by a Ponderosa pine forest.
Got a room at the Super 8. Talked them down to $39 and could have found cheaper. It's cold, in the 40s. Lots of motels along Route 66. Ate lunch at the Village Inn next door, then went to Walnut Canyon, a site with Indian ruins – dwellings built into the walls of a canyon. The Indians took advantage of rock overhangs that came out perpendicular to the canyon wall, providing a roof and back wall. They built the other 3 walls with stones and mortar. To get to the dwellings, we walked down a long stairway, and then there was a loop trail that took us to several dwellings, some of which we were allowed to explore. We could also see dwellings on the opposite canyon wall. Although the stairway to the trail was a long way down, we were still high above the canyon floor, which was quite narrow – 20-40 feet. In all, there were 300 dwellings, of which we saw 40-50. It took us about 2 hours.
Later that afternoon, we went to the Museum of Northern Arizona. It was small, but had a lot of information on the Indians of the Colorado Plateau, from ancient times to the present. Also had a section on the geology of the area.
Ate dinner at the Village Inn, then went to a special evening show at the Lowell Observatory. First, there was a presentation with a couple of guys portraying Einstein and Copernicus, talking about their theories. Then we got to see the original Lowell Observatory, which was built in 1896. Mr. Lowell had a lot of money and wanted to determine if life existed on Mars. He had a big telescope built out east and shipped it to Flagstaff, where he hired some locals to build a house for it. The wooden dome revolves so that the opening could face any direction. They tried different ways to support and turn the dome, including a trough of salt water, but ended up using the wheels and tires from a '54 Ford pickup.
Sunday – Got up and wiped snow off the car. Decided to skip the Grand Canyon and head south. Headed down ?? highway, dropping in elevation through pine forest. Stopped at Arcosanti, a place developed by architect Paolo Salieri, who studied under Frank Lloyd Wright. He started building it in 1970. In the desert near a little canyon. He used lots of huge, quarter-sphere shaped structures that were supposed to let in the sun in winter and provide shade in summer. Apartments are integrated with common spaces. He wanted to have a community where homes weren't spread out all over the place, taking up farmland and open space. It would have greenhouses and gardens where they'd grow food. Rain water was captured for use in irrigation. It was cold and windy on our tour and the place did not seem very inviting – all that concrete . . . But the buffet lunch was good. We paid $6 for the tour and $7 for lunch. They made a lot of cast bronze wind chimes and bells they sold. Paulo is still alive, in his 80s, but wasn't there that day.
Next stop was Casa Grande, an Indian ruin that included a huge, 3 or 4 story structure that was some sort of temple or community building. Walls 1-3 feet thick, made of a concrete-like material made from silt. Poles were used as roof and ceiling beams, then plastered. In addition, there was an oval shaped ball court.
On the way to Casa Grande, there were a lot of farms growing a thick grass about a foot tall, with canals for watering. Canals had also been built and used by the Casa Grande Indians.
We drove right on through Phoenix to Tucson, and the temperature still got no higher than 72 degrees. We found a Rodeway Motel for $36, which included continental breakfast.
Monday – Headed 36 miles south to Chiracahua National Monument, which is near Wilcox. Grasslands. In the park, we took an easy, 3-hour, 3½ mile walk. Blue sky, 70 degrees and breezy. There were beautiful rock formations, and we took a lot of pictures.
Then back to Wilcox, a junky little town. Ate dinner at the Regal Inn, a local restaurant and bar. The waitress said the nearby town of ? was a farming center and the area was 2nd in the nation in growing apples. They also grow tomatoes and pecans. Near the same town was hot springs. But rain was forecast for the next day, so we drove back to Tucson.
Tuesday – Rainy, cloudy, low 50s, windy. Stayed in the motel and read most of the day. In the early afternoon, we drove out to Saguaro National Park. Spent some time in the visitor center, then took a ½ mile walk. Although we got some sunshine, it was uncomfortably cool, so we wore jackets.
Came back to the motel and read some more. Had dinner at a Chinese place, then took a 50 mile drive after dark so Alan could go by his uncle's house in Oracle, even though he knew nobody was home. Lots of saguaro cactus. Also lots of mistletoe, which grows as a parasite in other trees, like Mesquite. The Sonoran Deserts extends into Mexico.
Wednesday – Sunshine, warmer, high 60s. Went to the Arizona Desert Museum. Spent about 4 hours there. There were indoor and outdoor displays of the flora and fauna of the desert. We are learning the names of desert plants. The saguaro cactus doesn't start branching until it is 75 years old. At the end of long, spindly branches, the ocotillo has red blossoms which bloom in April. The cholla has what looks like round, furry branches. The barrel cactus has a crown of yellow blossoms. The palo verde is a shrub with green branches (palo verde means "green stick"). During periods of drought it sheds its leaves to conserve water and continues to grow by photosynthesis using the chlorophyll in the branches. The creosote bush, the mesquite tree, the prickly pear cactus. The Sonoran Desert is full of these plants, even in the mountains. We saw saguaro on top of hills.
Some of the desert animals – the coyotes, the javelinas – appeared to be running loose, but on closer look we saw that they were enclosed in a thin, net-like fence, probably made of plastic. The aviary was also entirely enclosed in this material. We saw a quail on top trying to get in. One of the workers was taking the eggs from the quail nests because there were too many of them. There were mountain lion and bear and bighorn sheep.
Since Monday, my stomach has been a little sore, so I wasn't too disappointed that we weren't doing much hiking. I finished A Question of Intent by former FDA commissioner David Kessler. It is about the FDA's efforts to get tobacco classified as a drug so they could regulate it. Most of it was their struggle to get information. It was known that nicotine was addictive; they wanted to establish that the tobacco companies manipulated nicotine levels. They lost the fight after taking it all the way to the Supreme Court, but in the process they gathered enough information to change the public view and enable the states to win their big settlements. Meanwhile, Congress was completely useless.
Went to dinner at a Chinese buffet. Large selection. A lot of shrimp.
Thursday – Alan coming down with a cold, not up to doing any hiking. We had planned to go to a popular place in the mountains outside of town – some canyon. But we decided to just head for Phoenix, taking a longer, more scenic route through Oracle and Globe. It was a nice drive, through mountains and desert. Lots more cactus. Ate a good lunch in a restaurant in Globe, where there is a big copper mining operation, digging up mountains and leaving terraced piles of dirt. On the way to Globe, we drove along (above) a good-sized river cutting through the mountains. Looked like a good canoeing river.
Then into Phoenix, where we found another Rodehouse Inn near the Hertz car return. Not as nice as the one in Phoenix. Killed a baby cockroach. Re-packed our stuff, watched TV. Had trouble finding a restaurant; ended up at a local Mexican fast food. Good, and cheap. We had tried the restaurant attached to the motel, but were scared away when we saw no customers.
Friday – Ate a good breakfast at the restaurant attached to the motel. A few other customers this time. Bar and grill. I had an omelet with mushrooms, tomatoes and cream cheese. Waitress says the group that runs the restaurant is not affiliated with the motel, but they also had the motel restaurant when it was in a different location. She said she had worked there 9 years, with the same core staff. She was very good, bright, and I got the impression they had a good little team.
After breakfast we returned the car. We had driven 2040 miles. Total cost was $500 and some. We took the shuttle to the airport and checked our bags outside. All simple and easy.